Hi there!  Happy Friday to you!  Despite the fact that it is crummy weather here in the Philly area, I'm happy that it's Friday and my work is closed on Monday for Columbus Day!  So that means a 3 day weekend for me!  Yay!!!  I also believe that I will have an extra day off from work since I have to do some work at home this weekend.  So that will be nice.  I don't really mind working from home as long as it's something I can do and have the necessary tools to do them with.  So it should be okay.  At least I'll get to watch tv and hang out while doing work.  That will make it go by quickly.
What are you doing this weekend?  I don't really have any plans except for what I mentioned, working from home a bit.  I will also be planning my normal shopping trip to ShopRite.  I'm hoping that this will be a successful week again.  I do have to prepare though.  It takes time but it's worth it in the end.  The past two weeks we have gotten well over $65 worth of groceries and only spent $14.  Not bad if you ask me.  I'd like to see that continue or even get lower.  So fingers crossed!
Let's move on to Fun Finds Friday!  Today I am going to talk more about pumpkin items.  I don't know about you but I can't get enough of them!  Let's get started.
I believe I mentioned these Pumpkin Spice M&M's before but I wanted to mention them again since I've tried them.  These M&M's are only sold at Target.  It is a Target exclusive.  So if you are looking for them, Target is the place to go.  I thought they were just okay.  They don't have an overwhelming pumpkin flavor.  The pumpkin flavor is very light and subtle.  I think I would like more of pumpkin flavor.  It was good but not something I'd rush out to buy.
Food Should Taste Good Harvest Pumpkin Tortilla Chips
These are a limited edition chip from Food Should Taste Good.  I've always been a fan of their chips and I even reviewed them back in the day when my blog first started.  I think Harvest Pumpkin chips sound really good!  I bet they would taste good in hummus or pumpkin salsa!  Yum!  I need to find these!
S'mores Candy Corn
I know this isn't pumpkin flavored but it's holiday related and I keep forgetting to mention it!  It's S'mores flavored candy corn!!  I've seen it a few times in the store but still haven't picked up a bag.  I think they look great!  I wonder if they really taste like S'mores.  I'll need to buy it to try it out!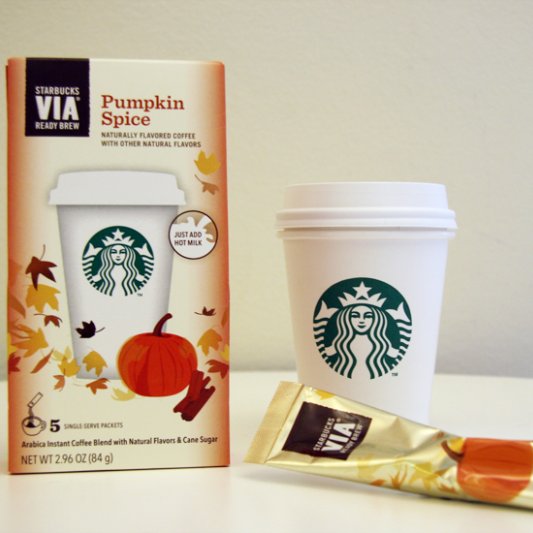 Starbucks Via line has introduced Pumpkin Spice coffee!!  This is great news.  You can brew pumpkin spice coffee at home or on the go with the Via packs!  I've never tried Via but I'd be willing to.  This sounds great!
Dairy Queen Pumpkin Pie Blizzard
I swear every single year I see this Pumpkin Pie blizzard picture and I ALWAYS say I'm going try it and I NEVER have!!!  I want to!  This picture makes it look incredible.  There isn't a Dairy Queen near me so I'll have to travel to one to try it.  I used to live around the corner from Dairy Queen which was dangerous.  It had me wanting blizzards all the time.  So I'm going to have to go back to that one and get this.  It looks too good to let another year go by without me trying it.  I am determined!
So there you go!  A few more pumpkin items to get you through this fall!  I really like what I mentioned today and I want to try those items that I haven't tried yet.  I will be on the search.  Have you tried any of these items yet?  Which would you most want to try?
Alright, have a great Friday and wonderful weekend!
Filed under: Uncategorized Tagged: | pumpkin flavor, pumpkin pie, pumpkin spice