Hi there!  Happy Friday to you!  What are you doing this weekend?  I don't really have any plans except for the fact that I would like to go to Bed, Bath and Beyond.  There are a few things that Mike and I need to pick up and there is a particular location that I would like to go to.  So I'm hoping that we can accomplish that this weekend.  Besides that I don't really have much planned and I am thankful for that.  My month of October is going to be quite crazy with work so I'm looking forward to relaxing while I have the time to do so.
Anyway, let's get started on another edition of Fun Finds Friday!  Today I am going to feature some new random bath and body items that I have discovered.  Hopefully you will find something new to check out!  Let's begin!
Bodycology Spiced Pumpkin & Sugared Candy Apple
The company Bodycology that created bath and body items have introduced two new scents for the fall!  They are Spiced Pumpkin and Sugared Candy Apple.  As I have mentioned, I am a huge fan of all of the fall scents.  So these two sound like something I would absolutely love!  I have seen this brand sold at Target, CVS, and Kohl's.  I definitely look for these the next time I am in any of those stores.
3.1 Phillip Lim Line for Target
The designer Phillip Lim has put out a brand new clothing line for Target. I have never heard of this particular designer before.  I have been in love with Target's clothing lately.  I've bought quite a few things and find myself finding more and more items every time I go into that store!  I do have to say this Philip Lim bag is super cute! :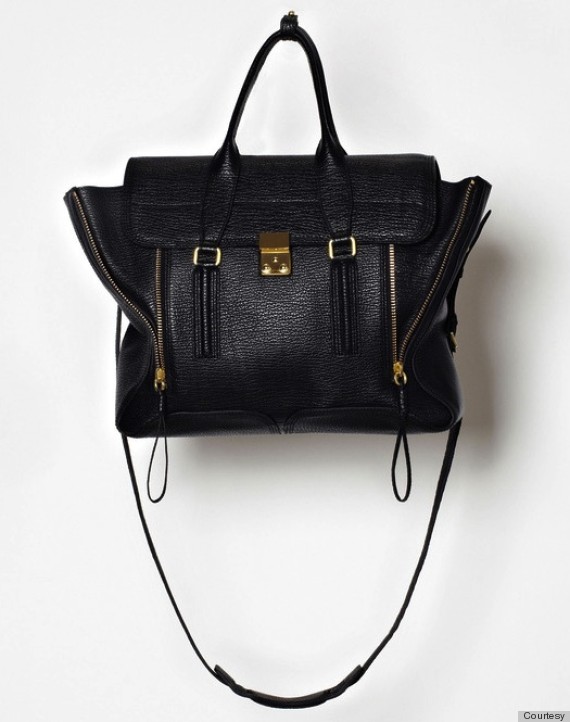 Definitely worth checking it out for this bag alone!
TJ Maxx has finally introduced online shopping!!  This could be a very good or a very bad thing.  When I go to stores like TJ Maxx I tend to walk around in circles and never find anything.  I think looking online would be a much better choice for me.  Now if Home Goods decides to open online shopping, I might have a problem.  I could spend such a long time in Home Goods.  I just love that store.  I'm glad that Tj Maxx finally got with the times and have online shopping!
Lately, I've been hearing a lot about the "Yes to" brands.  This brand has quite a few different lines.  They are Yes to Carrots (Nourishing), Yes to Cucumbers (Soothing), Yes to Grapefruit (Correct & Repair), Yes to Blueberries (Age Refresh), Yes to Tomatoes (Clear Skin), and Yes to Baby Carrots (Baby line).  As you can see each line focuses on something different.  Their ingredients are ALL natural and only contain foods, oils and flowers.  I absolutely love the idea behind this line and want to try the products badly.  I will sadly wait till they go on sale.
I am a fan of Herbal Essences Shampoo.  I swear by it and it's the only shampoo and conditioner that I have found that works in my hair.  I love the scent and I like the way it makes my hair feel.  I completely forget every time I'm in the store that they have come out with body wash.  As you can see they have three different types and I really want to try them!  I just love their scents.
So there you have it!  Some new products in the bath and body area.  Have you tried any of these products?  Which would you most want to try?
Have a great Friday!