Hi there!  Happy Friday to you!  We made it through another week!  I hope yours wasn't too bad.  I'm happy to report the cold weather is back.  Yay!  I'd much rather deal with the cold than muggy temperatures in the winter.  Anyway, what are you doing this weekend?  I don't really have much of anything planned.  I do want to catch the half-time show of the Superbowl to see Beyonce and Destiny's Child.  I am really looking forward to watching that and I guess some of the commercials too.  I'm obviously not a huge sports fan especially football.  So I'm sure I won't be paying too much attention to the game.  It is fun to watch though just for the commercials and half-time show.  I remember the time that the Eagles were in the Superbowl,  I think Mike and I went to a bar.  It was an interesting atmosphere because I had never been to a bar during the Superbowl.  I think I prefer to watch it in the comforts of my own home.
Anyway, today is another edition of Fun Finds Friday!  Today I am featuring new desserts.  Desserts are truly one of my favorite thing!  It is the best part to any meal.  I have always been a big dessert fan ever since I was little.  So finding new desserts is right up my alley!  Let's begin!
Dunkin' Donuts Brownie Batter Donut 
Dunkin' Donuts has unveiled a new donut for Valentine's Day!  It's a heart-shaped donut that has brownie batter in the center as filling!  I don't know about you but brownie batter inside of a donut sounds pretty good to me.  I definitely need to check it out!  Have you tried it yet?
Sonic has a new milkshake for a limited time for Valentine's Day!  This shake contains ice cream blended with cherry and chocolate pieces and finished with whipped topping, more chocolate pieces and a cherry.  I think it looks heavenly and sounds even better!  Chocolate and cherry is a good combination in my book.
Ben & Jerry's Greek Yogurt in Liz Lemon
Ben & Jerry's has created a new Greek Yogurt flavor, Liz Lemon based on the character on the show 30 Rock played by Tina Fey.  This flavor is not out yet and should be released in the Spring.  It's Lemon flavored Greek Yogurt with a Blueberry Lavender Swirl.  This flavor doesn't appeal to me all that much but maybe some of you would be interested in trying it.
Haagen-Dazs has come out with Gelato that you can buy in supermarkets!  It comes in several flavors such as: Dark Chocolate Chip, Black Cherry Amaretto, Cappuccino, Limoncello, Sea Salt Caramel, Stracciatella, and Vanilla Bean.  There are two flavors that come in individual cups and those are: Sea Salt Caramel and Vanilla Bean.
Breyer's Blast Ice Cream
Breyer's Blasts Ice Cream has introduced a few new flavors to their line.  They have created Reese's Chocolate, Oreo Birthday Blast, Golden Oreo Cookies & Cream, Banana Split, Klondike Krunch and S'mores.  I think all of the flavors sound really good especially the Reese's, S'mores and Golden Oreo.  I definitely need to try these out!
Entemann's New Products
As you can see from the pictures above, one of my favorite companies, Entemann's has created quite a few new desserts:
Cinnamon Crunch Loaf Cake – Moist Cake with bits of cinnamon topped with a crunchy sugar topping.
Mini Cakes Cinnamon Swirl – On the go snack with a cinnamon taste.
Apple Filled Crumb Coffee Cake – Crumb Coffee Cake with real apple filling.
Ultimate Fudge Brownie Truffles – Rich Moist Fudge Brownie Dipped in a luscious dark frosting.
Red Velvet Iced Cake – A moist Red Velvet Cake with a creamy icing.
Chocolate Loaf- A moist loaf cake with rich chocolatey flavor.
Cinnamon Danish Twist – Moist Cake with a cinnamon ribbon.
Chocolate Danish Twist- A Moist and Delicious Twist with Rich Chocolate Drizzle.
As you can see they have a lot of new desserts.  I think all of them sound really good especially the Apple Filled Crumb Cake.  I've been on an apple flavor dessert kick lately.  So that coffee cake warmed up with a scoop of vanilla ice cream sounds like the perfect dessert to me!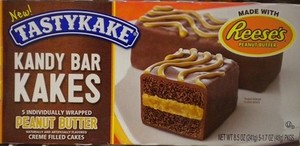 Tastykake is a company that I have grown up loving ever since I was little.  It is a company that is local to Philadelphia.  It's near and dear to my heart.  Their products were never widely distributed across the US.  I'm thinking now they might send more of their products across different states.  Either way, their products are amazing!  Just how amazing you might ask?  Well my grandmom used to have a stockpile of all different types of Tastycakes in her basement.  She had an entire table dedicated to Tastycakes!  It was a treat going to her house and she would let Melissa and I pick out anything we wanted to eat and take home.  Talk about dessert heaven!  Anyway, they have introduced three new products of Kandy Bar Kakes which are individually wrapped cakes:  Peppermint made with York Peppermint Patties (peppermint filled cakes), Peanut Butter Cakes made with Reese's peanut butter (peanut butter filled cakes), and S'mores Cakes made with Hershey's Cocoa (marshmallow creme filled cakes).  All of these sound delicious to me!
Well there you have it!  Another edition of Fun Finds Friday!  If you have any ideas or suggestions, feel free to leave a message in the comments or if you prefer, email me.  Have you tried any of these products I mentioned?  Which ones would you most want to try?
Have a great Friday!
Filed under: Uncategorized Tagged: | dunkin donuts, greek yogurt