Hi there!  Happy Thursday to you!  I hope you are having a great week and are ready for the weekend like I am!  We are almost there.  It's so close that I can taste it.  I love when it's the weekend.  I like to be able to sleep in and just relax and be lazy.  We are in the process of hanging up some of our wedding pictures and hopefully we will be done with that this weekend.  I will definitely post pictures of our finished collage on our wall.  It's going to look great!  Speaking of which, Mike and I have been married for 5 months today!  I seriously cannot believe that next month will be 6 months already!  Where has the time gone?  I feel like we were just getting married and honeymooning.  It's really crazy how quick everything goes by.  I'm looking forward to celebrating our 6 month anniversary.  It's right around Valentine's Day too.  So I'm hoping we can celebrate both together by doing something nice.
Last night, we decided to keep things simple and do one of our favorites for dinner.  You guessed it!  Breakfast.  I love breakfast for dinner.  Plus, it's always gentle on my stomach.  So that is a good thing.
I was trying to figure out what I wanted to talk about today and my mind was seriously going blank.  I'm thankful that I listen to Elvis Duran every morning because they usually inspire me on days when I can't think of anything to say.  This morning, they were talking about a report that came out yesterday about the most extreme meals at chain restaurants.  Extreme meaning high caloric content.  I thought it would be interesting to see which restaurants and which dishes made this list and share it with all of you!
According to the article from CNN, there were nine finalists for 2013.  For the last nine years, the Center for Science in the Public Interest has been studying the calories, fat, sodium and sugar content of chain restaurants and releasing the Xtreme Eating Award winners each year to the public.  I think this is great that they are compiling this information for public knowledge.  There are more and more chain restaurants appearing as of lately, and it's good to know what is in your food before you order it.  So let's get to the finalists, shall we?
1.) Bistro Shrimp Pasta from the Cheesecake Factory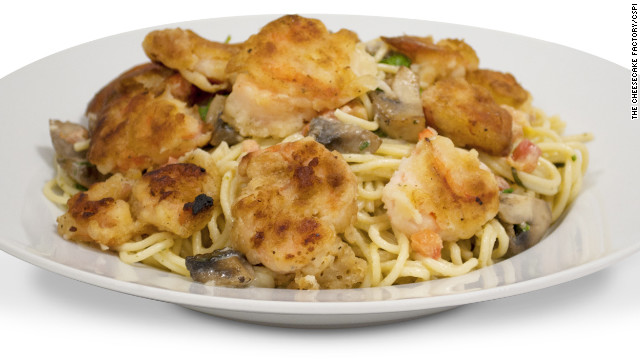 This dish contains crispy battered shrimp, fresh mushrooms and arugula tossed with spaghettini in a basil-garlic-lemon cream sauce.  It contains 3,120 calories, 89 grams of saturated fat and 1,090 milligrams of sodium.
2.) Crispy Chicken Costoletta from the Cheesecake Factory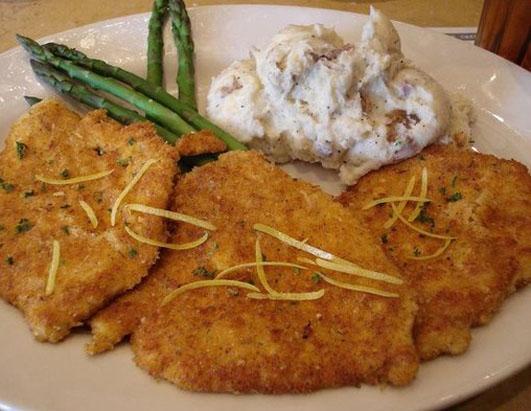 This entrée is a chicken breast lightly breaded and sautéed to a crispy golden brown.  It is served with a lemon sauce, mashed potatoes and fresh asparagus.
According to CSPI, it has 2,610 calories, and 4½ days' worth of saturated fat!
3.) Bacon Cheddar Double Burger, Sweet Potato Fries and Big Apple Shake from Johnny Rockets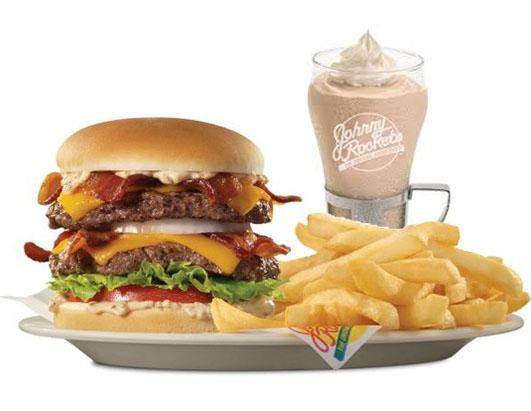 This meal contains 3,500 calories, 88 grams of saturated fat, 3,720 milligrams of sodium and 15 teaspoons of sugar.
4.) Country Fried Steak and Eggs at IHOP
This dish has 1,760 calories, 23 grams of saturated fat, 3,720 milligrams of salt and 11 teaspoons of sugar — nearly two days' worth.
5.) Veal Porterhouse at Maggiano's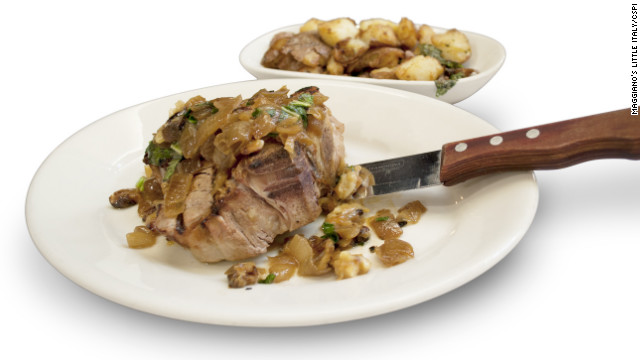 It has roasted garlic, caramelized onions and lemon with crispy red potatoes.  It contains 2,710 calories, 45 grams of saturated fat and 3,700 milligrams of sodium.
6.) Chocolate Zuccotto Cake from Maggiano's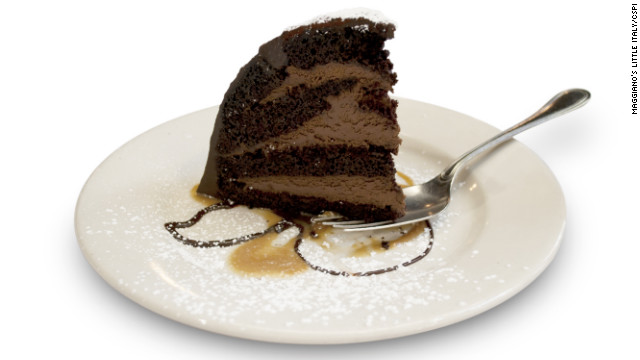 This cake contains 1,820 calories, 62 grams of saturated fat and 26 teaspoons of sugar.
7.) Peanut Power Plus Grape Smoothie from Smoothie King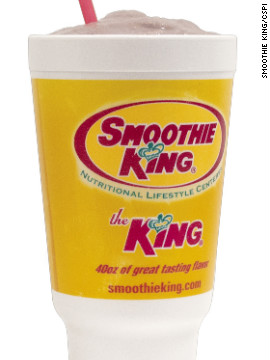 The 40-ounce size of this smoothie has 1,460 calories and 22 teaspoons of sugar.
8.) Full Rack of Baby Back Ribs with Shiner Bock BBQ Sauce from Chili's
This dish comes with homestyle fries and cinnamon apples.  It contains 2,330 calories, 45 grams of saturated fat and 6,490 milligrams of salt.
9.) Deep Dish Macaroni and Three Cheese from Uno's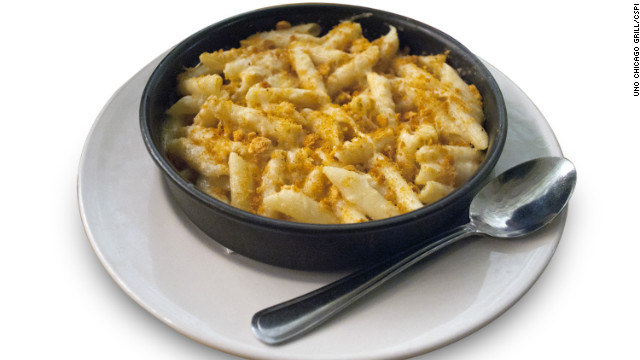 This dish contains 1,980 calories, 71 grams of saturated fat, and 3,110 milligrams of sodium.
The average adult should consume about 2,000 calories a day says the FDA.  The Centers for Disease Control and Prevention recommend keeping sodium intake to between 2,300 and 1,500 milligrams a day for most people but preferably at the lower end of the scale.
Chain restaurants will soon be required to post their calorie counts on the menus.  Some restaurants have already begun doing that in various states.
What do you think about the content in this food?  Do you think restaurants should post calorie counts in their menus?  Have you had any of the items mentioned above?
I think serving food like this is ridiculous!  Some of that food has enough content that people need for a day or a few days.  It's incredible how they are doing this.  That is why it is important to be smart when ordering out.  Make sure you know what you are ordering and what each dish contains especially if you have different nutritional needs.  I like how most restaurants post the calorie counts and ingredients right on their website. So you are able to see if any of the dishes have any allergens you might not be able to eat or how many calories each item has.  I really like that.  I hope more menus start changing and making their items healthier.
Well that is all I have for today.  Have a great Thursday!
Filed under: Uncategorized Tagged: | chain restaurants, earth balance butter, honeymooning