Hi there!  Happy Friday to you!  I hope you have fun plans for the weekend.  What are you doing this weekend?  Mike and I really need to organize our house this weekend.  We have things from our wedding still taking over our dining room.  You can't even sit at the table.  So we need to organize things and find a place for everything so our house won't be as cluttered.  We are also planning on reorganizing our cabinets so some of our new glasses and various items will finally fit instead of sitting in boxes on the floor.  I'd like to use a lot of our new things but we don't have a ton of storage in our house so we are going to have to get creative with things.
Anyway, today is my first of many recaps of our wedding!  I am starting off with our wedding rehearsal and the rehearsal dinner.  Our rehearsal was held at our venue.  We had our bridal party, our parents and Mike's grandparents in attendance.  I wish I could have had my grandparents there but sadly they are no longer living.  So that wasn't possible.  I knew that they were there with me in spirit though.
Melissa, my mom, Mike and I all arrived together to our rehearsal.  I was so anxious in the car because this was the start of everything that we have waited so long for.  Our rehearsal was held on August 16th which was a Thursday because our wedding was the following day, the 17th which was a Friday.  As soon as everyone starting arriving my nerves were getting to me a bit.  I was anxious and excited at the same time!  The venue had partially set up the ballroom so I could see how everything looked.  It looked exactly as how I have envisioned it in my head.  It was incredible.  I took my parents, Melissa, Mike and Mike's parents and grandparents to take a sneak peek of the room.  It was perfect.
I had a surprise that I had been keeping from Mike for months that I was finally ready to reveal.  I decided to get him a groom's cake and present it to him at our rehearsal.  I was going to have it at our wedding but we had a ton of desserts planned and I figured the cake would go to waste.  I thought the rehearsal would be better.  So I went back in the kitchen and wheeled out a cake into a private room.  I had Mike walk in and we had a moment.  I presented him with a tennis racquet groom's cake.  He has been a tennis player all his life and I know it means a lot to him.  So I wanted to do something special for him.  He was so shocked and surprised!  I did exactly what I wanted to do.  Surprise him.
If you are wondering, the cake was chocolate chip pound cake because that is Mike's favorite kind of cake.  The racquet was covered in fondant.  The bakery did a great job.  Unfortunately it was the same one that we used for our wedding cake which proved to be a disaster.  I will get into that when I get to that point in our wedding recaps.
After I showed him the cake, it was time to rehearse.  Our Rabbi showed up super late because she got caught in traffic.  She stormed in like a hurricane and it made me a bit nervous because of how frazzled she was.  I just went with it though and took in every single moment.
Our rehearsal went great!  I was finding myself starting to get choked up when my parents and I practiced walking down the aisle.  Seeing Mike at the end of it made everything that we have gone through with planning our wedding, worth it.  I felt like all of my cares went away for that moment and I knew that the next day, our wedding day was going to be perfect.
Once we were done rehearsing, it was time for our dinner.  We planned our dinner at the Broad Axe Tavern.  They had a really nice private room and they weren't too far from our venue.  It was important to us that we had a private room because we wanted to present our bridal party with gifts, among other things and we just wanted it to be us and our closest friends and family.
We had 3 options for entrees for our dinner.  You could choose from Penne with Vodka Sauce, Chicken Franchaise or Pan-Seared Tilapia.  The meal also came with a Caesar Salad and mini desserts as well as Mike's grooms cake.  I ordered the Tilapia for dinner.
When dinner was over, I had my laptop hooked up to a projection screen.  I had prepared a speech that I wanted to give to everyone especially Mike.  I started off by telling the story of how Mike and I met and then I showed a slideshow of the past 6.5 years that we have been together.  After, I expressed to Mike how much I love him and care about him.  The entire time I was trying to hold back tears and had a huge lump in my throat.  It was one of the most emotional moments of my life.  I am really glad that I went through with the slideshow and gave the speech.  I think everyone enjoyed it especially Mike.
Afterwards, I presented my bridesmaids with gifts that I had and when I handed each one their gift, I said something short about them.  I wanted to personalize it.  I forgot the actual pictures of the gifts I gave them so I will show you examples.  I had a bag made for each of them with their name in their favorite color embroidered on it.
The bags looked like this:
Inside the bag, I put a bottle of their favorite type of wine, a wine glass that I made for each of them that looked like this but had pink, purple and silver polka dots:
I also made each of them a tank top that said Bridesmaid, and I made Melissa one that said Maid of Honor.  They wore them while we were getting ready on our wedding day.
I will definitely post actual pictures of them again so you can see what I did.  For Mike's groomsman we ordered each of them an over-sized beer mug with their name, role in our wedding and wedding date on it: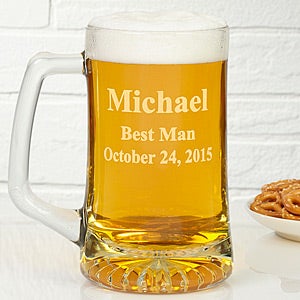 We also gave them each a pair of socks that had an argyle print in silver and purple to wear on the day of our wedding so we could do a groomsman sock shot.  It actually turned out great!  I cannot wait to show you the picture.
Here are some various pictures from the night:
Overall, our rehearsal couldn't have gone better.  The entire night was incredible and it meant so much to us to have everyone there.  It made me more excited for the next day, our wedding!  Mike decided to stay the night at our house instead of us sleeping separate.  I thought that I wouldn't be able to sleep if he wasn't there with me and we both needed a lot of rest because we didn't sleep the night of our wedding.  We went from our wedding, to our house to drop things off and then straight to the airport.  We thought we would get better sleep if we were together.  He didn't see me dressed up or anything so I figured it was okay.  Plus, I left pretty early the next morning anyway.
So that is our rehearsal.  I still can't get over the fact that I am writing about this already.  It feels so surreal that all of this already happened.  I feel like it was a dream.
Have a great Friday!
Filed under: Uncategorized