Hi there!  Happy Wednesday to you!  I hope you are having a good week so far.  My week is alright.  I feel very stressed out and overwhelmed this week.  I really need to learn some relaxation techniques.  I'm trying to calm myself down but nothing seems to help.  My stomach keeps feeling worse and worse too.  Not fun at all.  I'm waiting to hear back about my test results of the test that I had done on Monday.  I'm hoping that I hear back today so we can finally come up with a new plan and get me feeling better before our wedding and honeymoon.  I've been feeling sick for far too long now and I seriously cannot take being in pain for much longer.
Yesterday when I got home from work, I spent much of the evening just relaxing on the sofa because my stomach was bothering me.  I am slowly starting to catch up on some tv shows. I have so much on the dvr.  I've been loving Bethenny Frankel's new talk show!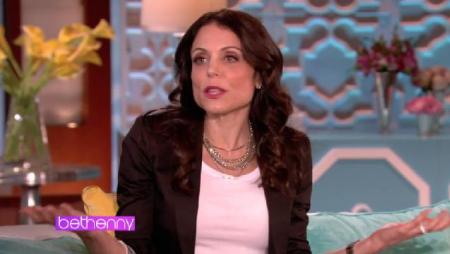 Are you watching her new talk show? Are you a fan of hers?  I like her talk show because it's different.  It unlike any other talk show on television and I think she keeps it interesting.  I also love the set!  It's super cute!  I wish she was filming in New York so I would have a chance to attend a taping but sadly she films in LA.  Hopefully one day I will get to attend a taping. It looks like a blast!  I am such a fan of hers.  I really admire her a lot.
Enough about that, let's get to Wedding Talk Wednesday today!  I don't have a whole lot to talk about but I wanted to post some updates of things that have been going on.  So our invitations are supposed to arrive today!  I'm super nervous to see them.  I did see proofs of part of them but I didn't see the entire thing together.  I pray that it looks good!  I've been waiting to hear back from a calligrapher and she is not getting back to me which is frustrating. I think I will try calling her after work because I want to get these invitations out pretty soon.  Our room blocks need to be filled by July 17th which is a month before our wedding and I haven't sent the invites out yet.  GR!  I really hope the calligrapher gets back to me.  It's never easy trying to coordinate a million different people.  So if you know of any good but reasonably priced calligraphers in the Philly area, please send them my way!
I've been getting various items for our wedding delivered to the house almost every other day or a couple of times a week.  It's exciting!  Our second bedroom is completely taken over by wedding items.  It's crazy!  I have a ton of my diy supplies ready to go and I am seriously planning on buckling down this weekend and doing a ton of diy things!  Mike and I also have our work cut out for us as far as music goes.
I have a list of songs that I am planning on having played during the ceremony.  I just need to figure out which order we are playing them in and who is walking in to what song.  We also need to figure out the music for our reception.  I think that is going to take the most time to figure out.  We still don't have a first dance song!  Eeek!  I am confident that we will pick it out very soon.  We are getting down to the wire here!
Some of the groomsman went to get fitted for their tux which makes me a happy girl.  We are still waiting for the rest of the guys to get fitted.  They have two weeks to do it.  I'm planning on hopefully going out with my dad this weekend for Father's Day and to get him fitted for his tux as well.  So that will be done.  We are waiting to hear back from the jeweler about our rings.  It's going to be torture to have our wedding bands but not be able to wear them.  Crazy!
Oh, I booked something romantic for our honeymoon!  The middle of our honeymoon on the Wednesday, we are going to have a candle light dinner!
I am so excited for this romantic dinner.  Once we arrive in Antigua, we will meet with our butler and pick a menu and location for this dinner.  I cannot wait for that!  The next thing we need to book for our honeymoon is a couples massage.  I figure the rest of the excursions and everything our butler can help us book when we are there.
Mike and I also need to decide which day we are going to get our marriage license.  I seriously cannot believe how soon all of this is.  It doesn't seem real to me.  It still hasn't hit me that we are getting married.  Despite putting on my wedding gown and seeing our names on our invitation and everything else, it just feels foreign to me.  I feel like I am planning someone else's wedding. I'm not sure when it's going to officially hit me.  I would like it to hit me before our wedding so I am not a complete emotional wreck.  I'm not at all nervous to get married.  I'm more excited and looking forward to what it brings to our life.  We have been together for so many years, that I don't think much will change once we are married except that our relationship will finally be official and my last name will change.
So those are some of my thoughts and updates for the day.  I'm sorry I don't have pictures and it's not more exciting than that.  It will be, I promise!
Alright, have a great Wednesday!
Filed under: Uncategorized