Hi there!  Happy Wednesday to you!  We made it to the middle of the week.  I don't know about you but this week feels like it is moving by so slow.  It feels as though today should be Thursday already.  Sadly, that is not the case.  I decided to take the day off on Monday.  I haven't had a day off in I don't know how long that was spent not going to the doctor's office.  So I decided to take a day.  I'm planning on hopefully getting some wedding DIY and various errands done on Monday.  I also need to take off a couple of days in July.  I have so much vacation/sick time that if I don't start taking some days, I'm going to stop accruing them.  I don't want that to happen.  Plus, next month, I could probably use a couple of random days off to get wedding things done.
So yesterday after work, I went over to Melissa and my mom's house.  Melissa and I made dinner at her house and then we went out to run errands.  We went to Whole Foods because we both had coupons for some things to get.  I ended up getting 2 cupcakes from there that looked amazing.  I had one and Mike had one.  I wasn't all that impressed.  The frosting was good but the actual cupcake was quite dry.  I don't know if it was because it was the end of the day and they had been sitting in the display or I'm just picky with cupcakes.  Either way, it was a little disappointing to me.  Oh well.
After Whole Foods, we ran a few more errands and then went home.  I was exhausted and I really wasn't feeling well with my stomach.  Sometimes it just hits me really bad and I need to get home and lay down.  I'm still not feeling too good this morning.  Eventually, I'll have to do an update on my health. I just haven't really felt like talking about it and there really isn't all that much to update on.
Moving along, let's move onto something more cheerful, shall we?!  Wedding Talk Wednesday, is more like it!  Can you believe that there are only 10 more Wednesdays before we our wedding date?  That is crazy to me!  I thought today that we could discuss some wedding beauty ideas and see what ideas I have and what your opinions are.
So I am a huge fan of getting spray tanned for various events.  I have done the Mystic tan and I don't like it at all.  It leaves you streaky and uneven.  Plus that machine makes me feel like I'm going to have a panic attack.  So lately, I've switched to getting airbrushed tanned by an actual person.
I have fallen in love with it.  It makes you much more even and it lasts longer.  So I am planning on doing the airbrush tan the morning of our rehearsal dinner, I believe.  I want to be tan for the rehearsal and the color gradually increases throughout the day.  So by the time our rehearsal comes along, the color should be developed.  That way I have enough time for it to look great for our wedding day.  Have you ever done a spray tan?  Do you like it?
As far as my nails go, I'm planning on putting on acrylic nails.  As much as I hate what they do to your real nails after you take them off, it's a must!  My nails are atrocious.  I keep my real nails very short so I would never be able to get a french manicure on my actual nails.  It would look terrible.  I'm planning on keeping the nails on possibly until my friend/bridesmaid's wedding that I am in.  Then I will probably take them off.  I don't want to keep them on for too long.  I'm planning on doing that a few days before our wedding.  I'm going with a french manicure for my nails and for my toes.  For my toes though, I was thinking about doing a line of blue sparkles or something cute like that. I'm not sure yet though.
What would you do with your nails and toes for your wedding day or what did you do if you are already married?
Another wedding beauty idea I am trying to figure out is wedding perfume.  I know I have talked about this before but I would really like to pick a scent that I don't have and then every time I wear it, it will remind us of our wedding day.  I haven't found any perfume I really have fallen in love with yet.
I have smelled "Love Express" because they gave me a sample when I purchased something at the store, I have to say that it does smell nice.  But I'm not sure about it.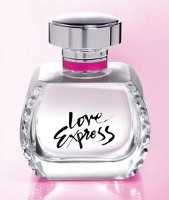 I also smelled something from Victoria's Secret that I thought smelled nice.  I can't remember what it was though.  I'll have to go back and check it out.  Do you have any perfume ideas?
In regards to beauty, I'm also trying to keep my face under control with breakouts.  I've been using Dove bar soap like a champ for the past month and I've noticed my face is really clear!  So I'm hoping that this holds up.  I'm also being careful with body washes that I have been using so they don't irritate my skin or cause breakouts.  I'm just being careful with everything in general.
If you have any ideas or anything that I missed, please don't hesitate to say in the comments!  I could use all the beauty help I can get!  So that concludes another Wedding Talk Wednesday post!  Have a great day!
Filed under: Uncategorized