Hi there!  Happy Wednesday and Happy 1st Day of February!  This week is actually going by quite slow for me.  Is it going by slow for you?  I hope this month is a good one.  The past two months have been really rough for me health-wise.  I'm hoping that this month will offer change and I will finally be out of pain for once.
My dinner last night was not exciting at all.  It was more of an experiment trying to figure out what sets off my stomach and what doesn't.  I didn't even bother to take a picture.  I made a toasted english muffin, scrambled eggs, roasted potatoes and I tried to roast a few different kinds of vegetables.  That was a big mistake.  I'm almost positive that it was the vegetables that set my stomach off.  I think I would have tolerated the english muffin, scrambled eggs and potatoes just fine.  That's alright though.  It's all trouble-shooting and I have been keeping a food log.  So I can go back and see which foods are good for my stomach and which aren't.  So I will not being having vegetables with dinner tonight unfortunately.  I just need to get over this flare up and then I should be able to tolerate most things again, knock on wood.
Anyway, let's get to my favorite part of Wednesday!  Wedding Talk Wednesday!  I haven't done all that much with our wedding.  Mike and I have created our guest list and I'm in the process of designing our save the dates.  My goal is to have them sent out by February 17th so we are exactly 6 months away.  Fingers crossed that I can get this done!  I will be posting the end result.
I thought today that I could talk about some of my favorite wedding inspiration sites that I go to.  When I was studying to get my wedding planning certification, I used a ton of sites to complete assignments and to come up with ideas.  I'm glad that I found so many useful sites because they have really inspired me with my own wedding.  You really just need to browse these sites and even check out the forums.  You don't need to post anything there but read some of the posts.  You will find really useful information.
The first site and one of my favorites is Weddingbee. 
Weddingbee has been one of my go-to sites.  I have found so much diy information on there and just ideas that I might have never thought of before.  The best thing about this site is that they have forums that you can visit but they also have a DIY section where people post their DIY projects.  This allows other people to comment as well as tutorials and things of that nature which really come in handy!  There is also a Gallery section where people can post pictures from their wedding.  It provides great inspiration pictures and ideas in that section as well.  I cannot say enough good things about this site.  It's definitely one of my favorites.
Another site that I really like which I'm sure all of you are aware of is The Knot. 
The Knot is a great site because they also have forums which is where I found some inspiration as well.  They have a ton of sections on their website to provide you with Planning Basics, Planning Tools, Hot Topics, Wedding Attire, Beauty, Real Weddings, Honeymoons and Wedding Shop.  The Knot has their very own wedding shop on their website.  They are always running sales too so be sure to sign up for their emails.  You can also make your own wedding website on their site that you can include on your save the dates.  The site also keeps track of how many days until your wedding.  Mine is 198!  Ahh!
Another site that I used more so for my wedding planning class but still look at on occasion is Style Me Pretty.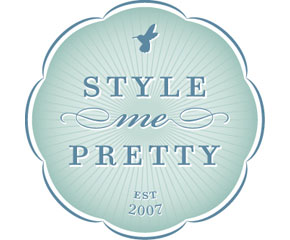 Style Me Pretty is definitely an inspiration site.  They have sections on Real Weddings, DIY Projects, Vendor Guide, and Fashion Look Book.  A feature I really like on this site is that you can look for local weddings that former brides have submitted. It's an accomplishment for your wedding to make it on Style Me Pretty's site.  I am hoping that my wedding will make it on there.  Our videographer for our wedding actually showed us a wedding video that they did for a wedding that made it on Style Me Pretty.  I thought that was awesome!
A site that I recently came across and really like is Belles On a Budget.  Belles On a Budget is a great site for learning about bargains and ways that you can save for your wedding.  I really enjoy reading the blog because she posts freebies or major discounts that you can score for your wedding.  It's really informative and she updates everyday.  I actually found this site from another coupon site that I visit and it's really been helpful.   I'm hoping to use one of the deals sometime this week to design our guestbook and save the dates.
So those are some sites that I really like to visit for inspiration and ideas.  Do you visit any of them?  Do you have others that I should check out? 
For those who are married: did you use any of these sites when planning your wedding?  For those who aren't married: can you see yourself using wedding sites for ideas and inspiration or are you planning on doing everything on your own? 
Have a great Wednesday!