Good Morning!  I hope you are having a good week so far.  Mine is going well work wise.  I have a lot of work to do so it's making my days and afternoons fly by pretty quickly.  That is a good thing.  Health wise, I'm still struggling.  I definitely think it's going to take me some time to figure out what I can and can't eat that won't trigger my stomach.  I'm noticing more bread products are gentle on my stomach.  So I'm trying to stick to eating that and staying away from whole grains and dairy for a while.  I'm hoping it helps.
After work yesterday, Melissa and I went to the library to pick up some books on Crohn's Disease so I could read up on it and maybe see if there were any meal plan ideas.  I also took out a book that I am very excited to read.  It's a Nicholas Sparks book.  I absolutely love his writing!  Another one of his books is coming out as a movie within the next couple of months so I want to make sure I have read the book before I see the movie.  Melissa and I are both reading it at the same time.  I haven't started it yet but once I finish it, I will be sure to say if it's good or not.  We also stopped at the supermarket so I could pick up a few more items that might be gentle on my stomach.
For dinner last night, my mom melted Earth Balance on some pasta and I brought over some Perdue Baked Chicken tenders.
Something that I ate, did not agree with me and my stomach ended up bothering me for the rest of the night.  It's a very frustrating process trying to see what I can and can't eat.  It makes it even worse if I want to go out for dinner or do take-out.  I really have no clue what to order.  GR!  Moving on..
The lovely, Jessica from the blog,
Sushi & Sit-ups
 tagged me in an 11-Things Survey post.
The rules:
You must post these rules.
Each person must post 11 things about themselves on their blog.
Answer the questions the tagger set for you in their post and create 11 new questions for the people you tag to answer.
11 Things About Me:
One of my favorite cities to travel to is Boston.  I love going there in fall and taking in the sights and of course enjoying a bread bowl filled with clam chowder.
My favorite Disney movie is Lady and The Tramp.  True fact, when Mike and I first started dating and Melissa and I went to Disney World, I bought Mike and I a Lady and the Tramp stuffed animal.  Their noses are magnets when they touch.  He has Tramp and I have Lady.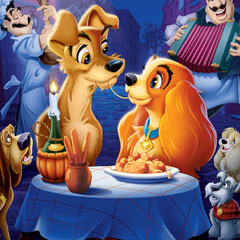 3.  The first concert I ever went to was the Nickelodeon All-That Music and More Festival just to see 98 Degrees.  I was literally obsessed with them.  Years later, I went to Jeff Timmons show with Melissa and ended up dancing on stage with him.  He was my favorite!
4. I love Frank Sinatra's music.  My favorite song of his is, "The Way You Look Tonight."
5. My signature drink is grape vodka and sprite, although I'd drink a beer anyday.
6. I know every single word to the entire musical, Rent.
7. I still dream about getting married in Disney World and I hope one day in the future that we can have a vow renewal there and go there for our one year wedding anniversary.
8. I love trying new restaurants and love the Stephen Starr concepts of all of his restaurants.  The best part is checking out the bathrooms because they are all so unique.
9. I get up as soon as my alarm goes off.  It's usually before the alarm even goes off.  No snooze for me!
10. Lately, I have become obsessed with watching Tori Spelling's reality show.  I have decided that I want to meet her so badly.  Her and her husband are adorable together and her kids are super cute!
11. I am secretly hoping that David Tutera will pick me for My Fair Wedding.
So those are my 11 Things about myself.  Next are Jessica's 11 Questions for me:
Favorite Food or Restaurant?  I absolutely love Mexican food!  My favorite thing to order is a chicken burrito.
Favorite Childhood Memory?  I loved when my mom used to make big holiday dinners with all of our relatives.  Melissa and I would be in charge of setting up the tables and assigning seats.  I just loved having such a big family.  I miss that.
Biggest Pet Peeve?  People who don't know how to drive and hog the left lane driving 40 mph!
Guilty Pleasure?  I am obsessed with reality shows!  I watch so many of them and I never get sick of them.  Some of my favorites are Teen Mom, Real Housewives of Beverly Hills/New Jersey, Jersey Couture, Bethenny Ever After, The Apprentice, etc.
Why did you start blogging?  I started reading blogs by merely trying to find healthy recipes to prepare before Mike and I moved in together.  I had always enjoyed cooking but never really did much of it.  I decided that I wanted to share my adventures through cooking, living with a significant other, product finds, restaurant reviews, and now planning about my up-coming wedding with people who wanted to listen.  I wanted to become a part of a community with other people who love and care about the same things that I do.
If everyone was safe, what possession would you grab from your house if there was a fire?  I would have to say either my computer or my picture albums.  Pictures mean so much to me.  Those memories last forever.
Favorite season?  This is a tough one.  I guess I would have to say spring.  It's not too cold and it's not too hot.  The weather is usually perfect.
Celebrity Crush?  I'm liking Bradley Cooper and as older men go, I've always loved Richard Gere for some reason.
Idea of a perfect day?  Relaxing in the morning with coffee and watching tv, and going out somewhere fabulous for dinner and then dancing the night away!
Favorite movie?  This is such a tough question.  I would have to say, 27 Dresses or How To Loose A Guy in 10 Days.
What would you do with the money if you won the lottery?  I would first and foremost pay off mine and Melissa's student loan debt, I would buy Mike and I our dream home, and I would make sure that my family was financially secure and I would donate some of the money to my favorite charities.
My 11 Questions:
If you could travel anywhere in the world, where would you go and why?
In 5 years you'll be…
Coffee or tea?
Celebrity crush?
Accomplishment you're most proud of?
Favorite food or restaurant?
What is your guilty pleasure?
Tell something you can find in your purse at any given moment..
Favorite Disney movie?
Favorite meal of the day?
What language do you wish you spoke?
Tag—you're it!
Kace @ Then Change It
Shari @ Shari Speaks
Krissie @ A Philly Nerd Girl
Sylvia @ Frolic Through Life
Natalie @ Will Jog For Food
Rachel @ This Italian Family
Kim @ Eat, Live and Blog
Janetha @ Meals and Moves
Katie @ Healthy Diva Eats
Alyssa @ Fashion Fitness Foodie
Jessica @ Stylish Stealthy and Healthy
So there you have it!  Now pick a question and answer or tell me something about you that I don't know?
Have a great Tuesday!
Filed under: Uncategorized