Good Morning!  Happy Wednesday!  It's funny thinking that at this time last week, we were done work for the week.  I wish it was the same for this week but unfortunately, it's not.  I feel like this week is going by pretty quickly though.  That is always a good thing.  Can you believe that tomorrow is going to be December already?!  I feel like every single month just keeps flying by.  Can we slow down just a bit? 
So yesterday after work, I was excited to have something different instead of turkey for dinner.  A couple of weeks ago, I noticed Bird's Eye Voila! Meals were on sale and I had a buy one get one free coupon.  So it made for an awesome deal.  I think I got 2 bagged meals for like $3 total.  Not bad if you ask me. 
Mike and I decided on Alfredo Chicken.
I don't buy bagged meals like this all the time but I figure every once in a while isn't a big deal.  Since I can't leave well enough alone, I added some spinach and extra alfredo sauce to the skillet.  It was quite easy to prepare.  You cook everything in the skillet and add 1/3 cup of water.  Before, I knew it, dinner was ready!
I thought this tasted good.  I liked that I added spinach because it gave some freshness to the meal.  It also needed a tad bit more sauce.  The sauce blended well with the sauce that was already with the meal.  I was quite pleased. 
The rest of the night, we spent watching a bunch of episodes of Cake Boss.  He aired an hour-long special and then an episode of his show.  So we caught up on that.  We still didn't get to watch The Next Great Baker.  I'm hoping maybe tonight if the Rockefeller Center Tree Lighting is boring.  We also watched 90210 and called it a night!
Let's talk Wedding Talk Wednesday for today!  Today, I wanted to feature Hors D'oeurves.  Another time I will focus on the cocktail hour as a while.  For now I want to strictly focus on the hors d'oeurves portion of the cocktail hour.  I think the hors d'oeurves make a big impression for the food at your wedding.  If they aren't good then changes are the food isn't going to be that great. 
I've been to several weddings within the past couple of years and I have yet to find a cocktail hour where I liked the food.  Lately, I've noticed a lot of strange things being passed around during cocktail hour.  A thing that is very important to Mike and I is to have those items that everybody loves and looks for at events.  I think you know what I am talking about.  I want people to enjoy themselves during our cocktail hour.  I want them to love the hors d'oeurves that Mike and I have chosen for them.  I want some of those items to bring back happy memories for them. 
I looked at our wedding package that we have and they list a ton of hors d'oeurves that we can choose from.  We get to choose 6-8 hot hors d'oeurves.  So I'm going to feature a few that I think sound fabulous for any wedding.
Pigs in a Blanket! 
These are my all time favorite hors d'oeurves.  I'm lucky that Mike is in total agreement!  These are a must-have.  It's the first thing that I look for at any event that I go to.  We are most definitely having these at ours!
Potato Knishes
These are puffed pastries filled with potato!  So delicious!  We both want these at our wedding as well.  They are a crowd pleaser.
Spring Rolls
Mac & Cheese Cups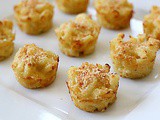 Spinach and Artichoke Crisp
I've never had these before so I'm not sure what they look like.  I'm assuming this picture is close.  It's listed on our choices from our wedding venue and I thought it sounds good.
Chicken Sesame
Vegetable Won Ton
Mini Deep Dish Pizza
Brie en Croute
I've never had this before but I love brie cheese so I'm assuming that it would taste lovely.
Pesto Puff
Pear Cheese Stars
Another thing I've never had before but sounds interesting.
I'm hoping that we get to try some of these hors d'oeuvres before making any decisions.  Some of them I'm not quite sure of and would like to try before serving our guests.
We also get cold hors d'oeurves such as fresh vegetables with dips, cheeses, fruit, an assortment of breads and crackers. 
Another option that has been showing up lately in the wedding world are stations during the cocktail hour.  There is a wide variety of stations that you can choose to set up at your wedding.
I've heard of Pasta Stations, Sushi Stations, Asian Stations, Pizza Stations, etc.  Anything you want, I'm pretty darn sure that you can have it at your wedding.  It's all about personalization and of course your budget.
We have some surprises that I have planned for our cocktail hour.  I'm really hoping that we get to see and try most of it and pictures won't take up the entire hour.  I can't wait to share with all of you what I have planned but we will have to wait until after the wedding for that to happen.
What hors d'oeurves are your favorites?  What would you choose for your wedding?  Do you have any must-have food items that you want at your wedding?  Any stations? 
Time to get going.  Have a lovely Wednesday! 
Filed under: Uncategorized