Good Morning!  Happy Wednesday!  I can't believe it's already the middle of the week!  I'm happy about that!  I was thinking of ways to add some things to the blog a bit and I was thinking about doing Wedding Talk Wednesdays.  Every Wednesday, I will discuss something wedding related.  Would you like that feature?  I think it would give me a way to have one day a week specifically focused on wedding related topics.  Before I get to my first feature for today, let's discuss last night.
I was nervous last night because our landlord was going to be coming over to inspect some things that we have been wanting to get fixed in our home since we moved in over a year ago.  This was our first time meeting the landlord since our previous landlord was terminated from the company.  I didn't know what to expect especially since everything happened with the flood in our place.  Luckily, she was really nice and agreed with us on things that need be repaired/replaced.  So now it's just a waiting game as she goes to her higher-ups and see's what they say.  I hope things will get fixed!  It was nice to finally meet her face to face and have her see what we were talking about in person.
After our meeting, Mike and I decided to make a pizza using Pillsbury pizza dough crust.  Our pizza that we made over the weekend didn't turn out right so I wanted to chance to make a good pizza this time.  This time it was perfect!
Yum!  This pizza definitely made up for the not so good pizza over the weekend.  I think I'm back to really liking the Pillsbury Pizza crust again.  I'd like to make my own from scratch at some point.  I think that would be cool.  The rest of the night we spent watching tv!  I was disappointed with the season premiere of 90210!  I thought it was weak and it jumped around a bit.  I'm not liking the new guy character either.  I'm hoping it gets better.  Oh, and the Ringer.  I couldn't even make it through 10 minutes of that show.  It was awful!  Disappointing night on tv for sure!  Moving along!
Let's get to the topic of Bridesmaids dresses.  Most brides have a vision in their heads of how they want their bridesmaids to look at their wedding.  Once you have the color nailed down, it makes finding a dress for all of your girls much easier.  You need to take in consideration that everyone has a different body type and shape.  My concern is making sure everyone is comfortable, and likes how they look in the dress that I choose. 
I am having 4 bridesmaids.  That is including my sister, Melissa, who is the Maid of Honor.  My other bridesmaids are my friend Courtney.  Her and I have been friends since high-school.  My friend Kristen who is actually married to Mike's childhood friend Russ.  Her and I have become really close ever since we met.  Not to mention, they have the cutest daughter who I have posted pictures of on here before.  My last bridesmaid is my friend/co-worker, Tarra.  Her and I started our jobs on the same day and throughout the past couple of years have become really close.
I'm thinking of putting Melissa in a different dress to distinguish her as the Maid of Honor. Plus, she found a super cute bridesmaids dress that she really likes!  So I'm probably going to put the other girls in the same dress.  I would like for them to all match.  I am going with short dresses since our wedding is in August. Regardless, I have always envisioned the bridesmaids wearing a short dress, most likely silk material so that it will coincide with my wedding gown.  I cannot stand taffeta!  Therefore, no one will be wearing taffeta!
The color that I chose for the dresses is plum.  It is the most beautiful color purple!  It is exactly what I was looking for too.  Now, I'm going to show you some choices for bridesmaids dresses.  I'm not going to say which one Melissa likes, or the ones that I like for the bridesmaids.  I want to keep the final choices a surprise!  But I do want to show you some that I really like and get your opinions!
Option #1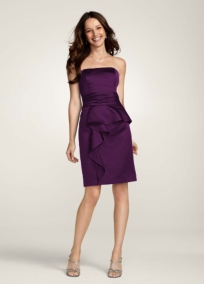 This dress is so pretty!  I love the style of it and everything.  It looks elegant and classy!  Please note, this is the color that I am going with!  Plum!
Option #2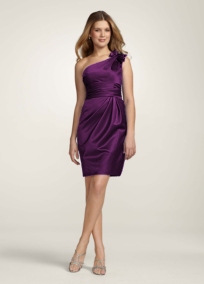 I am head over heels in love with this dress!  I love the one shoulder style!  I think it's SO pretty!!  Plus, I think it would be very flattering on all body types.
Option #3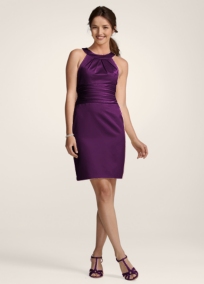 I think this style is  classic.  I think it would also be flattering on all body types.
Option # 4
This is not the plum color but note the style.  I really like this style dress!  I think this could be a great dress as well!
Option #5
This dress is very similar to option #4, but if you notice there are some subtle differences. 
So those are some things that I am thinking.  What is your opinion?  Do you like any of my choices? 
I'm thinking of the girls wearing silver shoes.  I think that would look pretty with the plum.  Melissa and I are going to wear the same style shoes but in different colors.  So I want the other bridesmaids to all wear the same shoe but in a different style than what Melissa and I are going to wear.  I think it would be cute if Melissa and I matched our shoes.  Not that anyone is really going to see my shoes.  I am planning on wearing plum-colored shoes to match the bridesmaids dresses.  So excited about colored shoes under the ivory dress!  Would you/Did you wear colored shoes on your wedding day?
Alright well let me know what you think about the new idea of Wedding Talk Wednesday!  I'm interested to hear what you think!  Have a good day!  Big Brother finale tonight!  Team Rachel!!