Hey there!  Happy Friday to you!  I don't know about you but I am thrilled that it's Friday.  I am absolutely exhausted.  I didn't sleep very well last night.  I think I might have gotten 2 hours of sleep at most.  I sure could use a cup of decaf coffee.  I'm not sure it would do anything to wake me up but it might help.  What are you doing this weekend?  Happy Easter to those who celebrate!  I'm not sure what I'm doing.  All I know is that tomorrow morning, I have to bring my car in to be serviced.  I'm really hoping that it won't take a long time.  I hate waiting for my car to be serviced.
Anyway, today I decided to do another Fun Finds Friday post.  I am featuring new breakfast items in this post.  I love breakfast and I could eat it anytime a day and love it.  So let's get started!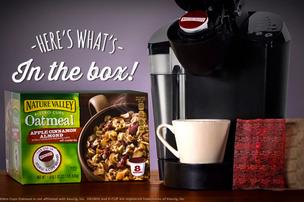 General Mills is going to release Oatmeal K-cup packets that can be made using the Keurig machine.  The product contains a packet of oatmeal, fruit, nuts and flavoring in the right amounts to mix with a six-ounce water dose from the Keurig.  The flavoring cup is what gets plugged into the machine.  I think this is a unique idea and I really want to try it.  I usually use my Keurig machine for hot water so I think this a neat concept and am excited to see it in stores to try it.
Taco Bell introduced their breakfast line as you can see at the end of March.  They have quite the variety of items.  I'm not sure that I really think of Taco Bell as a breakfast choice but now they at least have options for those who might be interested.
Post Honeycomb Cereal with Twisted Marshmallows
Honeycomb has introduced a new limited edition of their cereal that contains twisted marshmallows.  To be honest, I don't think I've ever tried honeycomb cereal.  I don't even know what it is.  It doesn't really appeal to me but this cereal might appeal to others so I'm posting cause I find it interesting.
iHop Cinnamon Roll Brioche French Toast
iHop has introduced a new edition to their brioche french toast, cinnamon roll.  I enjoy going to iHop for breakfast.  I think this looks delicious!  Mike has tried their brioche french toast before so I bet he would be interested in trying out this new one.
So there you have a few new breakfast items to try or think about.  Have you ever tried any of these?  Which would you most want to try?
Have a great Friday and a lovely weekend!
Filed under: Uncategorized | Tagged: Keurig, Taco Bell | Leave a comment »